WELCOME
Since its establishment, the Southern New Jersey Chapter of NIGP has been dedicated to promoting professionalism and creditable purchasing methods. Its members represent cities, boroughs, townships, boards of education, utilities, authorities, colleges and parks, as well as county and state agencies.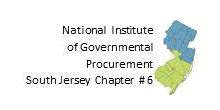 What do you think of our new logo?
We will be offering Logo'd T-Shirts and Polos for sale in the coming weeks.
If you are interested drop us a line
If you cant see the pictures click here for a pdf version
You are visitor #


OF INTEREST
updated 10/26/2013
Has moved. Click on the above to get to the new page
Link to Business Entities Doing Business with IRAN
Registration Is Now Open for the
2013 NIGP/MPPA Region II Annual Conference
in Ocean City, MD.
When: October 28, 29 & 30, 2013
Where: Clarion Resort Fontainebleau Hotel
10100 Coastal Highway
Ocean City, MD 21842
Mark Your Calendars!
Register Today!
Online: @ www.mppainc.org Or By Mail.
For more information visit the
Maryland Public Purchasing Association website at www.mppainc.org
See you in Ocean City!
New Jersey State Distribution Information